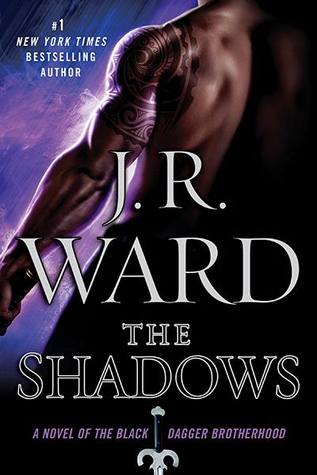 The Shadows by JR Ward
Released on: March 31, 2015
Pages: 592
Format: KINDLE
Find it:
Dates Read: April 6 to April 13
Blurb: Trez "Latimer" doesn't really exist. And not just because the identity was created so that a Shadow could function in the underbelly of the human world. Sold by his parents to the Queen of the S'Hsibe as a child, Trez escaped the Territory and has been a pimp and an enforcer in Caldwell, NY for years- all the while on the run from a destiny of sexual servitude. He's never had anyone he could totally rely on… except for his brother, iAm.
iAm's sole goal has always been to keep his brother from self-destructing- and he knows he's failed. It's not until the Chosen Serena enters Trez's life that the male begins to turn things around… but by then it's too late. The pledge to mate the Queen's daughter comes due and there is nowhere to run, nowhere to hide, and no negotiating.
Trapped between his heart and a fate he never volunteered for, Trez must decide whether to endanger himself and others- or forever leave behind the female he's in love with. But then an unimaginable tragedy strikes and changes everything. Staring out over an emotional abyss, Trez must find a reason to go on or risk losing himself and his soul forever. And iAm, in the name of brotherly love, is faced with making the ultimate sacrifice…
This is book 13 in the Black Dagger Brotherhood series. These books can be read as stand alone but you'd probably be confused about a lot of the side stories since they usually develop throughout multiple books….if you've already read some of the previous books but not all of them their might be some spoilers in my review….so you've been warned!
One thing with this series is there is ALWAYS a lot going on!!! Multiple story lines so make sure you pay attention so you don't get lost plus like I said before it could get confusing. Each book has its male and female leads (this one is the exception being about 2 brother who have been around for some time in previous books).
In the beginning Rhage and V are in The Pit because they had been hurt…well Lassiter was there being his usual self!! This part made me laugh because I could imagine V and Rhage ragging on him because he is ways inviting himself places and inconveniencing them!
He had more of a view than he wanted of a shirtless Lassiter playing with himself.
Foosball, that was.
The fallen angel was working V's table like a pro, flashing back and forth between the two sides—and hurling insults at himself.
This book is about Trez and iAm…twins and also Shadows. You kind of learn about them in previous books and how they left there home because Trez was the Appointed One and is suppose to marry the princess…him not being interested he flees….with his brother of course. Trez meets his mate in the chosen Selena…who unfortunately has been cursed with "The Arrest" as they call it. Which pretty much means her limbs get stuck and she's like a statue…so they both know she will die it's just a matter of when. So Trez tries to make her last moments with him special and spectacular.
He decided to take her on a date…to a restaurant down town that the floor spins and you can see everything…which isn't so fun for someone with a huge fear of heights! Just shows you that this badass guy still has a normal fear that normal people have. Just shows that even the fiercest of men can still have fears!
Trez snapped back around. "Almost there. We're almost at the top."
"Can we go down and come up again? I wonder what the descent is like!"
Actually, maybe they should head back to the lobby. He was fairly sure he'd left his manhood there when this rocket ride had ignited.
"Trez!" Tap, tap, tap on his forearm. "Look at this."
"Oh, yeah, it's incredible. Yeah. Abso."
They were never getting to the four hundred and forty-fourth floor. Much less level fifteen thousand gazillions where the cocksucking restaurant was.
McDonald's, he thought. Why couldn't she have wanted Mickey D's. Or Pizza Hut. Taco Hell—-
Selena had started to realize that her hands and hips were starting to go bad so she wanted to talk to Trez about after she's gone…he totally took it the wrong way. She just wanted him to know if he moved on many many years down the road she understood, she doesn't want him to be in mourning forever and to stay locked away from everyone…she then finally lost it and told him exactly how she felt no matter how selfish it was on her part.
She burst into tears. "I don't want you to go on without me."
As her soul split in half, he jumped up and came over. When he tried to hug her, she flailed at him, beat him with her fists.
"You're going to find someone else," she moaned. "You're going to fall in love with someone else and she's going to be able to give you young and hold you when you have daymares and make you dinner." The tears came so hard and heavy, she couldn't take a breath. "And she's going to be better than me because she's going to be.." Selena collapsed against him. "… She's going to be lucky enough to be alive."
Trez held her to his heart and stroked her back.
Bad spoiler coming up…so we've heard all about Trez and the s'Hisbe and how they're going to come for him…well that time has come…right after Selena dies and Trez is in mourning…I don't think there could have been an even more horrible time…but it sounds like the queen means business. I just love these characters and their loyalty…though it would be so easy for them to hand Trez over they refuse to because they feel he's part of the family now and that's not what they do. They stick up for each other no matter what the consequences are.
"The individual did not identify themselves. They were, however, evidently from the s'Hisbe. Bottom line either I turn over your brother at midnight tomorrow or the Queen is declaring war on not just myself and the brothers, but vampires at large."
iAm closed his eyes.
He should have seen this coming. He really should have.
He just really could have used, like, ten minutes before the next drama bomb landed in front of him.
Letting out his breath, he muttered, "Son of a bitch—"
"But we're not giving him up."
iAm's lids popped wide. "What?"
Wrath braced his powerful arms on the desk and leaned in, bearing his fangs. "I don't respond to threats. And we are prepared to go to war if that's what it comes down to — but whatever the outcome I will not deliver that male anywhere. Period."
We get a lot more of iAm in the last part of book which I'm happy about he was always so mysterious! He met someone while at the s'Hisbe earlier on when trying to help Trez find a cure for Selena. He meets with her outside the territory….he finds out who she is later…I'll leave that for you to find out!!
Trez overhears the Brotherhood talking about him and the s'Hisbe planning war and turns himself in instead!!! Ugh Trez!! What were you thinking!! When iAm finds out Lassiter and him head there to try and save him of course!
"I'm so sorry." iAm said, glancing around at the Brothers. Wrath. The rest of the household. "I can't believe it's coming to this."
Rhage shook his head. "We gotchu. We do what we have to, to take care of our own."
Of course a bunch of stuff happens while they are at the s'Hisbe!! Trez and iAm are set free which I'm so thankful for…these two have been through so much and poor iAm always so worried about his brother and never about himself…it was so nice to see him living for himself for once(even though my heart breaks for Trez)…he felt betrayed by the woman he loved, but then he realized she's the one who saved them both!
"You saved my brother," he said
"No, I didn't. I was too late."
"He survived."
"It nearly killed him. This whole nightmare…nearly killed him."
"You were not the cause, you were the solution I had been begging for."
"I lied to you."
"And I forgive you."
"How?" She choked out.
He leaned up and brushed her mouth with his. You're easy to forgive. You risked your life to go find out the truth. You were the one who found the lies and turned everything around. You are the savior I've spend my whole praying for, Your Highness.
She shook her head. "Do not call me that. Please."
This was a nice ending…Trez, iAm, and his mate eating dinner together…I'm disappointed Trez didn't get his HEA even after everything he went through in life…dealing with being The Appointed One which was totally a lie to begin with!! Ugh!!
As iAm leaned in to kiss his mate, Trez tilted his head back and mouthed, Thank you, my queen. We needed this.
I'll leave you with this overall series related thought…
This is one of my favorite series ever. I love how protective the males are over there mates, plus I love how everyone is always watching out for the other no matter what. When they say "brotherhood" they mean exactly that…family! I also love the twist on vampires…everyone thinks of them as killers because they feed on humans…well not these vampires!!! They feed on the opposite sex…male vampires feed on females vampires and visa versa!! She also has special names for their mates…shellan is the female and hellren is the male! JR Ward has out done herself with this series…these books are always so big but I'm always left wanting more at the end!! Great job keeping me always on my feet!!
We also get quite a view Rhage POV's which I love! JR Ward annouced the next book will be about Rhage so i'm sure all of this is leading up to his book! Can't wait! I'm excited to get and see the original Brothers again…years later!
If you haven't read this series it's a MUST read!!
Star Rating: